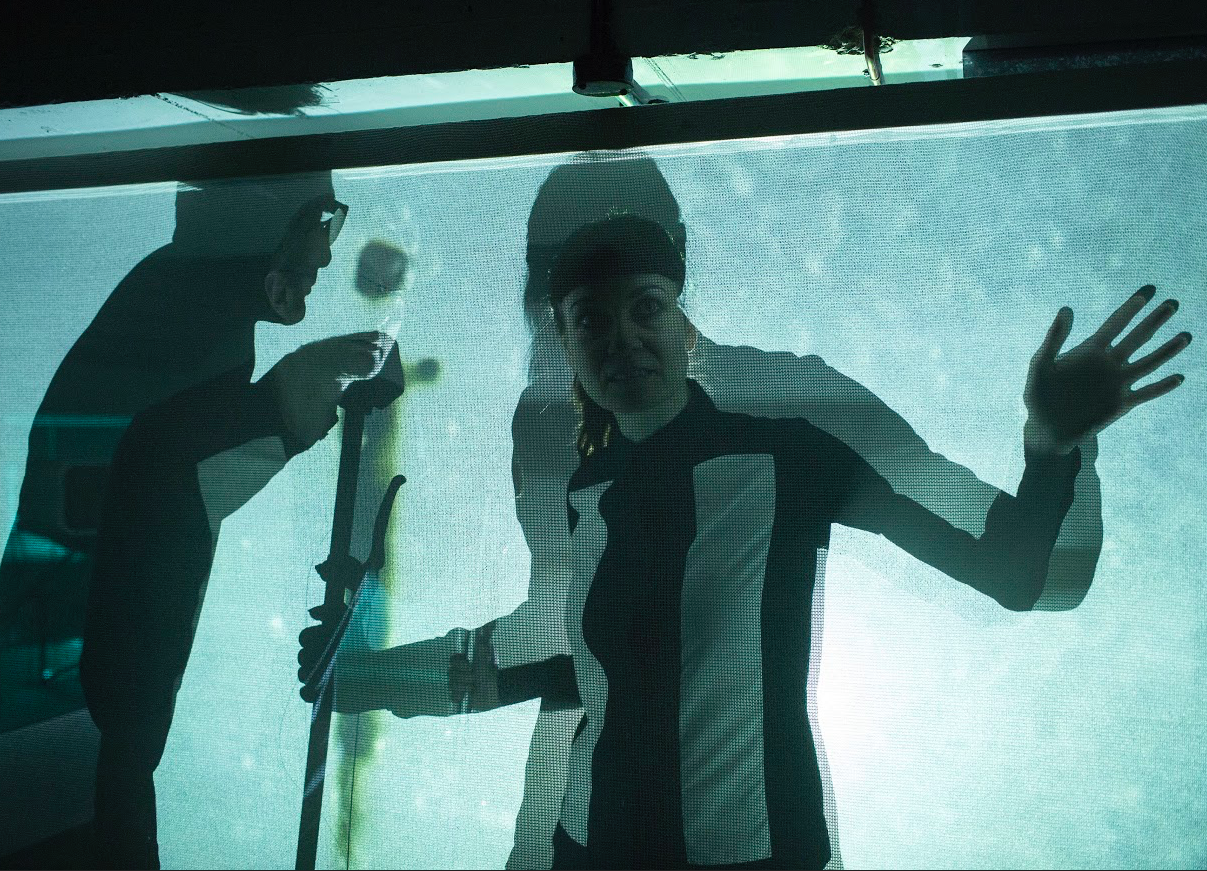 KLANGHAUS PRESENT THEIR NEW SOUND AND LIGHT EXPERIENCE FOR FESTIVALS

This 15-minute immersive experience for family audiences, music fans, the curious, and the unsuspecting incorporates natural sounds, light and projections. LightHaus takes an intense journey through saturated colour, pitch darkness and blinding light with music that veers from the quiet and gentle to full on loud rock.
Having taken their show 'Darkroom' to UN Climate Conference COP26 Nov 2021, KlangHaus authentically weave the essence of the ocean and its power to shape our world into the show's narrative. Featuring mournful foghorns, tidal bells, a reminder of the power of nature, our insignificance and vulnerability with the lighthouse as the signifier of warning of danger and of hope.
The collective are masters of the embodied experience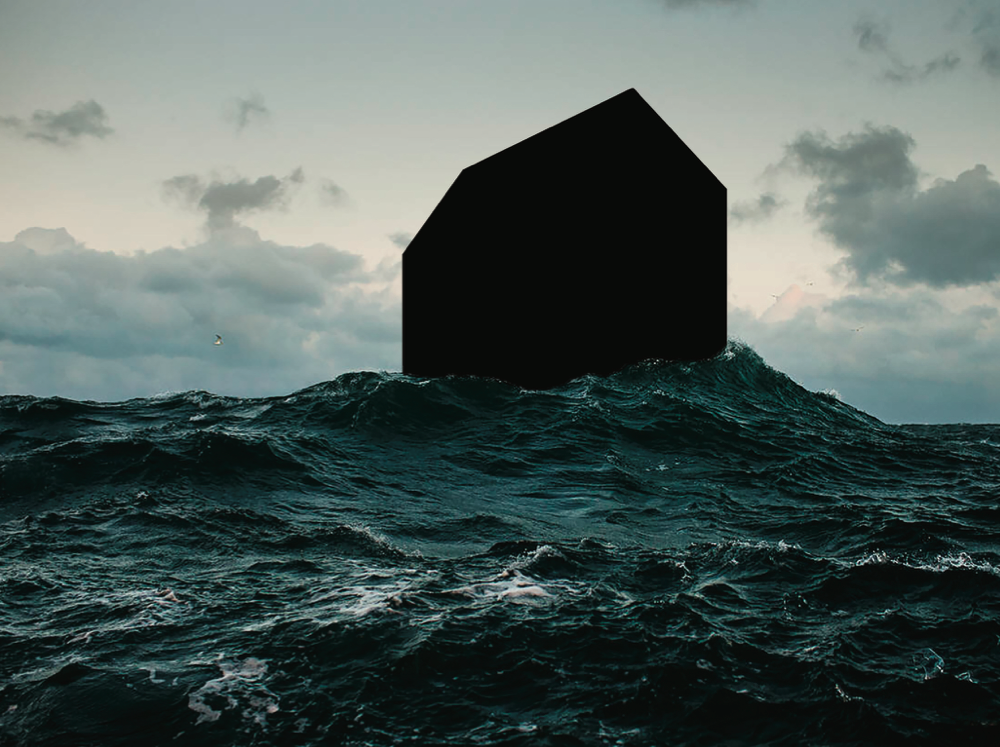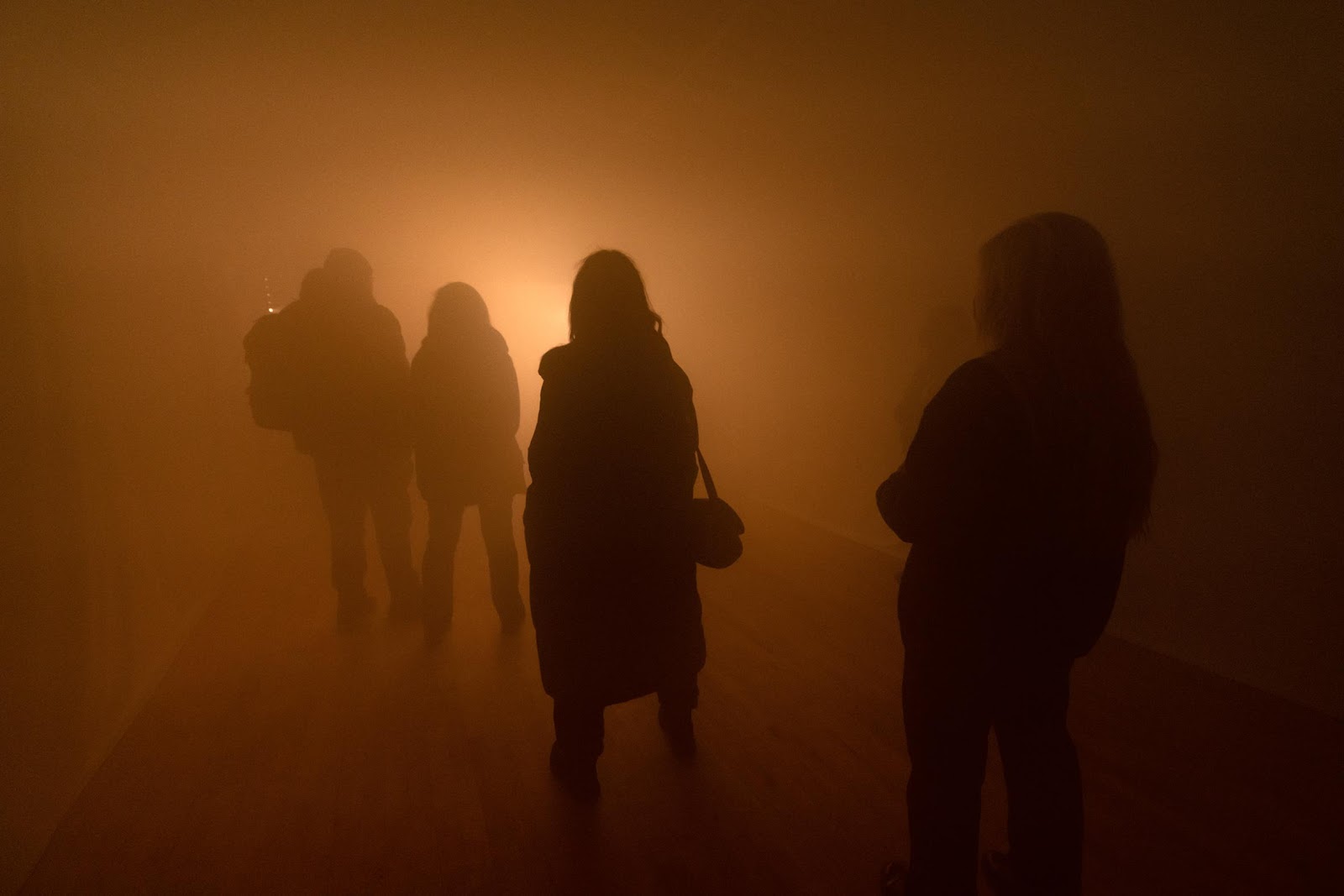 WHAT LIGHTHAUS AUDIENCES SAY
'It absolutely blew me away. I loved it. Was buzzing for the rest of the night.' - JP
'Highlight of the festival...' - Majesstuosa
'An extraordinary experience for the senses, in every way….sight, sound, smell, heart, head.  no words to say more than that.' - Malca 
'Enthralled and moved…..best immersive performance art I have ever experienced.' - Dansy Egramite 
'Perfect' - Alfie aged 6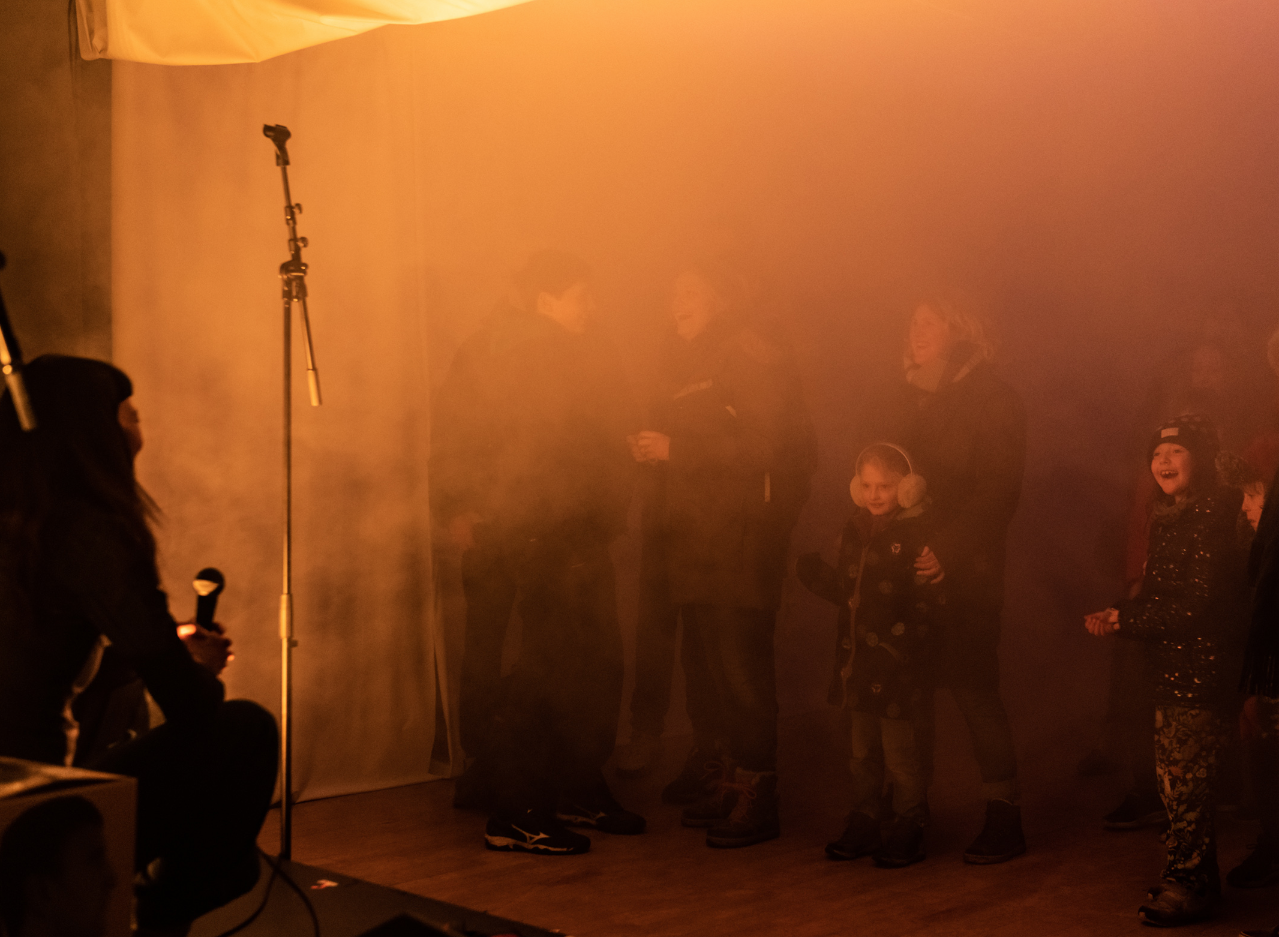 WHAT THE HOSTING PARTNERS AND FESTIVAL SAY...
★★★★★ 'a blast of aural and visual magic . . . a joy-inducing original' Donald Hutera, The Times
★★★★ 'Breathes a lungful of fresh air into gig-going and theatre alike' Maxie Szalwinska, Sunday Times
★★★★ 'the walls of the space and the music are genuinely in dialogue with each other' Lyn Gardner, The Guardian
★★★★ 'By turns lulls, terrorizes and invigorates the audience … an eerie but magnetic rock'n'roll mantra … crashing drums, rumbling fuzz bass, lighting is either low or blinding' Fiona Shepherd, The Scotsman
★★★★ 'A joy inducing original' Laura Barnett Daily Telegraph
★★★★ 'A dark, clanking wonderland... KlangHaus isn't a concert - it's a little world' Andrzej Lukowski Time Out
Immersive, disorientating, weird and wonderful, a great addition to the festival. Festival Artistic Director Love Light - Fiona Roberts
'It was a pleasure working with KlangHaus again for Love Light 2022. Lighthaus was a sell-out; a stunning immersive experience with both intrigue and surprise, it was a unique and welcome addition to our programme. The Autism and Family friendly shows were a great addition and enabled us to be more inclusive, delighting a wider audience. The feedback we received was fantastic!' - Caroline Bidewell, The BID, Head of Operations Love Light Festival.
"It was a pleasure to host LightHaus. Their forward thinking and attention to detail were excellent and helped the whole planning process run very smoothly from start to finish." - Sarah Grimes, Events & Lettings Manager, Norwich School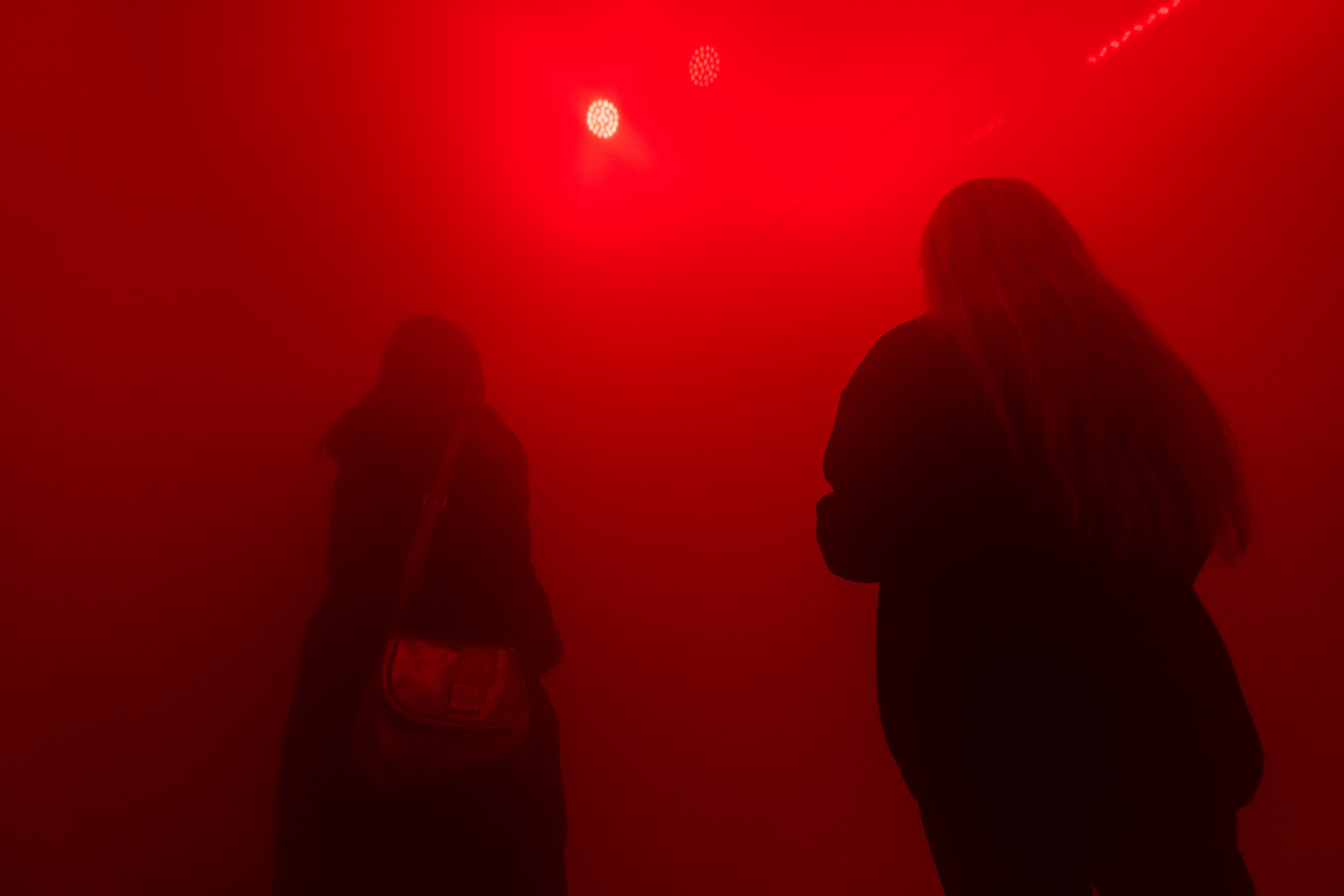 With a potential for up to 20 shows a day this allows for variations and adaptations in pre-allocated shows to welcome all age groups and people with more profound and complex needs. KlangHaus have worked with consultants with lived experience and will continue to do so, to make the show as accessible as possible; altering light frequencies, making room transitions less stressful for those living with Autism, having transcriptions available and sensory maps. With a line of 'access for one is access for all' the KH audience is growing because it is being enabled to by simple details such as, numerous show times and age specific shows. 
At the same time KlangHaus are introducing a wider family audience to art and music that is edgy and dark, encouraging people out of their comfort zone and broadening people's experience of what art can be. The key to holding the attention and trust of an audience is releasing the tension with music. And like any good musical, KH are releasing this tension with song and melody.
'Weird, beautiful, loud, aggressive and like a hug - all at once'
audience comment KlangHaus: 800 Breaths
Overview
Location: indoor space minimum 14m x 8m. 
Ceiling height minimum 4.5m
Set: Hiring scaffolding locally: 11x 13ft poles & 5 x 20ft poles, plus fixings & installation.
Sound: PA – 8 x speaker surround sound plus front of house PA
Lights: 12 baton LED, 8 LED sunstrips plus all cabling, 8 LED Par
Control : Qlab/company's own
Backline instruments required outside of UK: drum kit, bass amp, guitar amp, microphones and monitors.
Staging preferable, but we can work with the venue facilities.
Front of House, box office and stewarding & venue licenses will  normally be the responsibility of the producing partner.
All this can also be discussed more fully during the initial site meeting when we will be assessing how to make the show bespoke to the place in question.
LightHaus example of PA requirements
Please note: These are guidelines and are dependent on the room size and proportions ascertained from site visit.
FOH system

x4 D&B audiotechnik C7 sub
x2 D&B audiotechnik C7 top 
x2 D&B audiotechnik D12 power amp
cable to suit 

Monitor system


x4 Coax 12 wedge monitor
x2 Coax 15 wedge monitor 
x3 PKN power amplier 
x1 Speakon to suit 

x1 A&H QU 24 mixing desk
x3 10-15m Stage box
x10 3m XLR 
x10 5m XLR
x5 10m XLR

x1 Shure SM91 
x4 Sennheiser e604 
x2 Rodes NT5
x1 Audix D6
x1 Audix i5
x2 Shure SM57
x3 Shure SM58
x1 BSS AR DI

x4 short K&M stands 
x5 tall K&M stands

x1 32amp single phase distro
x4 16 - 13a 4 way 

Surround system

x8 D&B audiotechnik Max15 wedge monitor inc 35mm tripod
x1 15inch sub + digital crossover
x5 QSC Pl236 amplifier 
x2 20m Speakon
x14 10m Speakon
x6 Speakon couplers
Lighting
12 LED Batons - all on hook clamps
2x 3m 15amp to Truecon
2x 3m 13amp to Truecon (backup)
12x 3m Truecon Male to Female extension
12x 3m Male to Female 3pin XLR
8 LED Pars - all on hook clamps
1x 3m 15amp to Powercon
1x 3m 13amp to Powercon (backup)
8x 3m Powercon extension male to female
1x 5m Male to Female 3pin XLR
8x 2m Male to Female 3pin XLR
8 Blinders
On floor or on boom poles next to band
4 need to be on feet
4 need to be on hook clamps please
2x 13amp to Powercon
8x 3m Powercon extension male to female
8x 3m Male to Female 3pin XLR
Extras
1x 10m 5pin DMX
2x 5m 5pin DMX
1x DMX truss booster - TB3
3x 5pin M to 3pin F converter
3x 3pin M to 5pin F converter (backup)
1x Unique hazer
2x Tank trap boom base
2x 2.5m / 3m black boom poles (whichever you have)
2x stage weight
3x 10m 13amp extension
4x short 13amp 4 way breakout
1x short 15amp to 13amp 4 way breakout
4x 3pin DMX terminators
6x 1m Male to Female 3pin XLR (backup)
5m x 3m black-out drapes x 5
EQUIPMENT LIST – What we might bring.
Set – inherently flame proofed white black-out fabric tent approx 6m x 4m x 4m with inherently flame retardant polyline fabric roof 6m x 4m.
Props - Various domestic lights, framed pictures and ornaments to adore the LightHaus living room.
Mark Howe
Amplifiers:
1 fender champ DSP 30watt.
1 fender pro junior 30watt.
2 x Yamaha MSP 3 30 watt monitor speakers (£175 each ) £350
1 guitar lab practice amp
1 peavey bandit 50watt amp
Effects/peripherals
1 line6 pod XT effects modeler
Pod short board
1 stomp box pedal unit - 1 power source and assorted pedals x8
Approx
Ampstands
Guitars:
Squire telecaster
Unnamed f hole acoustic
Honor Headless
Yamaha guitarlele
Picolo Ukelele
Various leads
Various cases
1 Roland DR samplers
Jeron Gundersen
Drums and percussion
Mapex 4 piece
Cocktail kit
Cymbals Various percussion
Sal Pittman
Slide Projectors
Short throw Epson data projector
Jonathan Baker
Bass Guitars
Fender Jazz bass
Bass Amps
Ashdown 200 w bass amp
Galien Kruger 30 w bass amp
Cases x 2
Bass FX Pedals
Leads and connectors
Keyboards
Novation K station
Soundcard: Focusrite
Karen Reilly
1 x Kodak SAV 2010
Various leads and connectors
Laptops
Jon Baker - Mac book pro M1
Jon Baker –Mac book pro intel
Jon Baker I-pad
Karen Reilly – Mac Book
Sal Pitman - Mac book pro
Sal Pitman - Apple Hard drive
Nathan Clarke – 2018 Mac book Pro
Cameras
Sally Pitman  - Canon 5D DSLR , 25mm canon lens and 50 mm canon lens, soft LED light Manfroto Tripods x 3, leads,
Nathan Clarke - Camera Canon 250D , Sigma lens 18-50
Go Pro, Zyhun crane 2.
TECH BUILD DEMONSTRATED IN THE FILM BELOW
AGILITY OF THE SHOW IN ADVERSE CONDITIONS
LightHaus has a Covid-safe plan should such measures be needed. We have a fully approved Covid safety risk assessment which we can use as a baseline should adaptations be required. The show premiered Feb 2022 and audiences were socially distanced as regulations were only just starting to ease.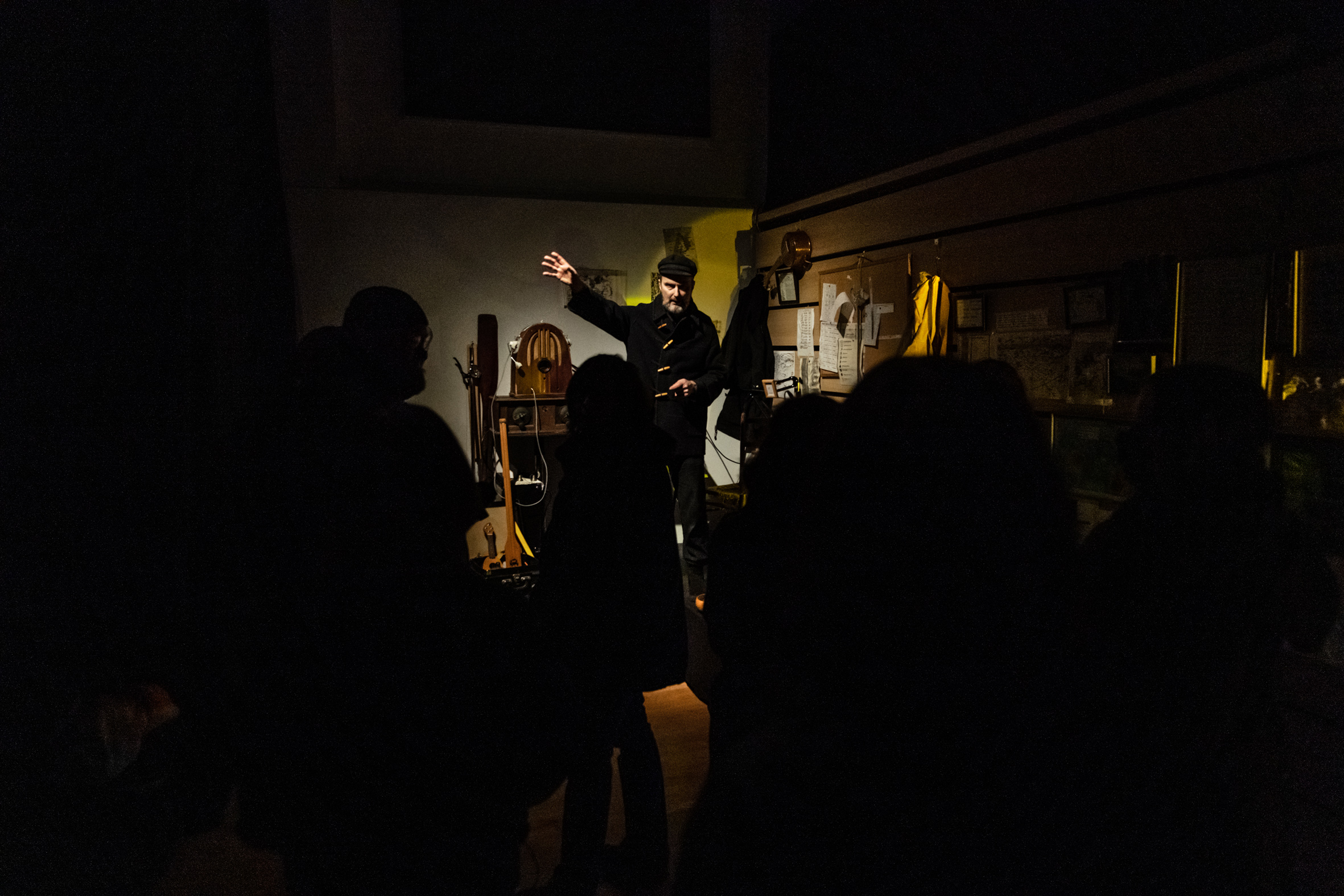 AUDIENCE COMMENTS KLANGHAUS
'Like having a musical/sensory massage, I'm tingling with sound!'
'Mind totally and utterly blown! The attention to detail is awe inspiring. Best Installation I have ever been to!' 'I fell in love with every member of the band, the music is phenomenal, the memory will be treasured.
' It wasn't wonderful - it was wondrous'
'Powerful and beautiful, we've never experienced anything like it - they possess the building!' 'It's like walking through music itself'
'Fabulously atmospheric - the interaction of music, lighting, building and artwork create a magical experience' 'Spellbinding, innovative, daring, beautiful, inspiring, amazing'
'I think the building really enjoyed it'
'After having previously presented the original KlangHaus at Summerhall, I really wanted them to create a new version for the Royal Festival Hall. The result was magnificent and sold out every performance over a full month of  shows. The whole team were very professional in the way they worked with our staff, from the technical department to housekeeping to marketing and press. Audiences were powerfully affected by the shows, and there is clearly more appetite to see these shows; accordingly I have booked another extended run of  KlangHaus for summer 2017.' - Rupert Thomson Royal Festival Hall
'The beauty of the KlangHaus experience is that by inhabiting unusual spaces, in our case the redundant bus depot, we can broaden the audience without compromising the art. The show itself is a bedazzling mash up of sound and vision, at times tender, at other times brutal. Holistically, this singular combination of the space, the work and the audience gave a unique addition to our contemporary performance programme' - Anthony Roberts Colchester Arts Centre
'It was an absolute pleasure to work with and host Klanghaus:Four Storeys at our building in Norwich, and watch a friendly and professional production culminate in a week of awesome sell out shows.' Giff Mulley - Site Manager, St Marys' & St George's Works, Norwich
THE NEUTRINOS & SAL PITTMAN

KlangHaus is the arts collective of art rock mavericks The Neutrinos & visual artist Sal Pittman.  KlangHaus make sound and senses shows in unusual spaces. The Neutrinos have been at the cutting edge of music making for 20 years. Working with visual artist Sal Pittman, whose work lurks somewhere in the shadows, working with projection, supergraphics, typography and montage in a seamless line between analogue and digital. The KlangHaus show deconstructs the way a rock gig works. It became a smash hit at the Edinburgh Festival before going on to sell out over 100 performances at London's Royal Festival Hall. The Times described them as 'A blast of aural and visual magic' in a 5 star review.
In 2021 KlangHaus took their revolutionary Darkroom installation, targeting climate emergency awareness to Glasgow's COP26 UN Climate Conference. Having worked with climate scientists at Tyndall Centre for Climate Change Research in the lead up, the show was heralded a vital of part of the conversation, a true embodied experience.
All press and national marketing for KlangHaus is overseen by Steve Forster of sfp communications ltd (Best Theatre PR, London Fringe Awards). Steve has many years experience of PR and marketing at local, regional, national and international levels and a deep understanding of the unique nature of KlangHaus. He will work in collaboration with  producing partner's PR/marketing staff to ensure maximum press coverage and marketing potential for all KlangHaus performances.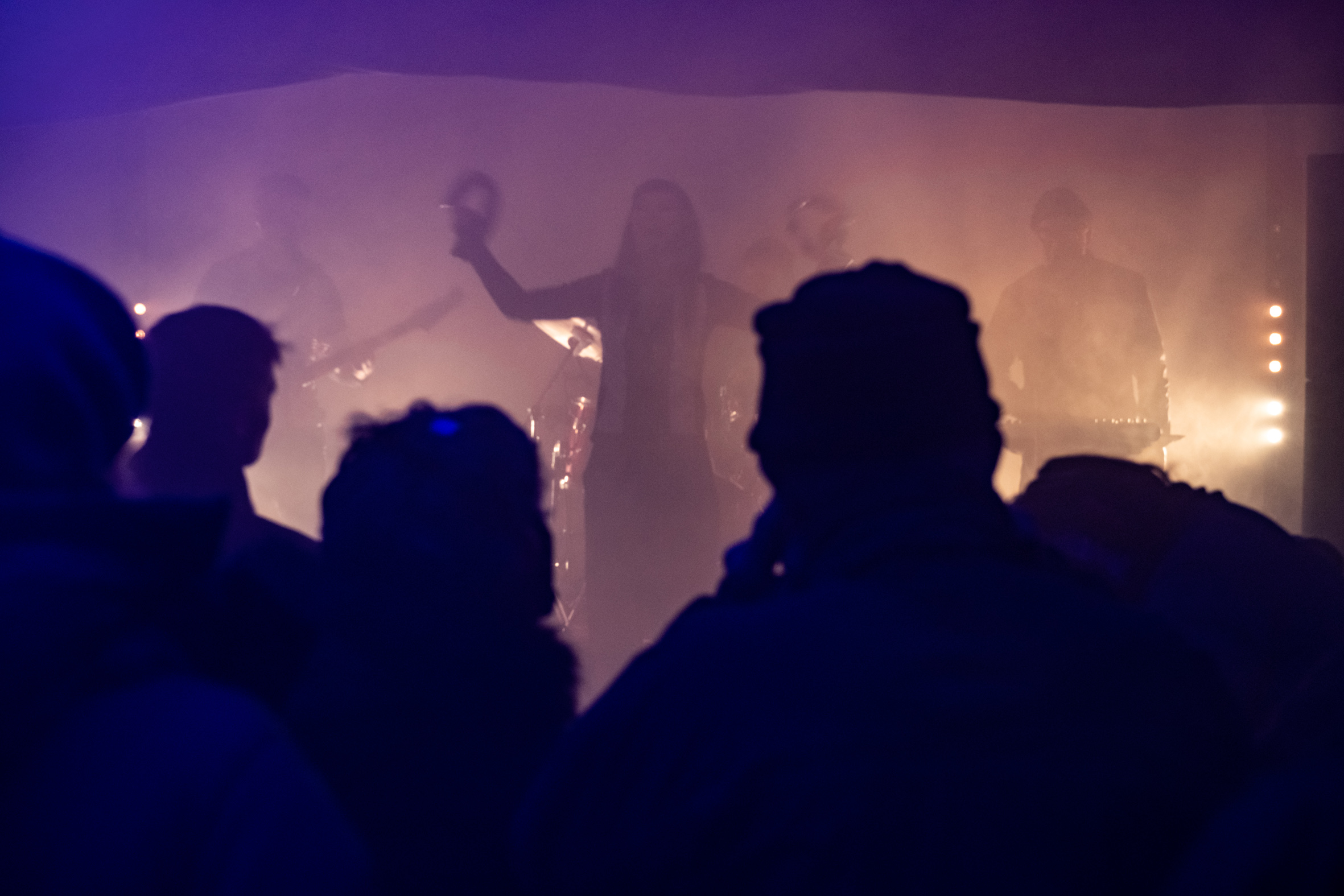 'One show that truly delivers the shock of the new, the most innovative presentation of live music I've ever seen – a total game-changer'
Alex Needham, The Guardian
LightHaus is supported by Arts Council England and Norfolk County Council.